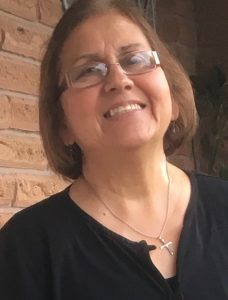 Maria Antonieta Martinez, sixty-six years young, was born in Hidalgo, Tamaulipas, Mexico on May 23, 1951 and was called home to be with the Lord on May 11, 2018 in Houston, Texas surrounded by her family.
Maria is survived by her husband of forty-four years, Tomas Martinez; daughter, Claudia Michelle Martinez; sons: Tomas Martinez III and wife Vero, Mario Alexis Martinez, Fernando Antonio Martinez and Julian Alberto Martinez and wife Jessica; five grandchildren; Tomai and wife Haifa, Sebastian, Cristobal, Jano, and Nydia. Sisters: Ludivina Narvaez, Lupe Tristan, Fina Yepes. Brothers: Sergio Aleman, Santiago Aleman and Carlos Aleman.
Visitation will be held from 5-8p.m. on Friday, May 18, 2018 with a rosary to begin at 7p.m. at Crowder Funeral Home in Pearland. Funeral services will be held Saturday, May 19, 2018 at 10am at Crowder Funeral Home.
Mom was one in a million; she touched many hearts. She lived every day to the fullest putting God first, always. Mom, we will never be able to fill the void of your unexpected departure. We find comfort knowing that you are where you were always meant to be, in God's Kingdom. We love you eternally and cannot wait to be by your side once again.
The post Maria Antonieta Martinez appeared first on Crowder Funeral Home.
View Original Notice ? Maria Antonieta Martinez