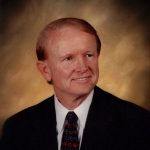 Our beloved husband, father, granddad and friend, Roger Melvin Hembree, went to be with the Lord on June 14, 2018.
Roger was born on November 22, 1940, in Sunray, Texas. He graduated from Dumas High School in 1959 and West Texas A&M University in 1963. Soon after he married his college sweetheart, Susie Herzik Hembree. Roger was a partner in the Keeney & Hembree Certified Public Accounting Firm in Dumas for 25 years. He was a long-time member and a past president of the Dumas Noon Lions Club and a member of the Dumas First United Methodist Church.
In 1988, the family moved to Round Rock, Texas, where Roger served as the Director of Risk Management at the Texas Association of School Boards and later became the Business Manager at Round Rock High School. Roger and Susie were active members of Bethany United Methodist Church and participants in an adult Sunday school class and several outreach projects. To be closer to their family, they moved to League City, Texas, in 2010, where they attended Clear Creek Community Church and enjoyed all the grandchildren's school activities/athletic events.
Roger was a huge Texas A&M fan and was always very proud of his three Aggie children and five Aggie grandchildren. Roger was a football season ticket holder and greatly enjoyed attending many sporting events and Singing Cadet concerts. He also enjoyed attending 12th Man Council of Athletic Ambassadors conventions with his son, Mike.
Roger is survived by his wife of 54 years, Susie Hembree, of League City, Texas; their son Mike Hembree, his wife Laurie, and their two daughters Jessica and Angela of League City; their daughter Cori Kerr, her husband Ron, and their three sons Cameron, Jonathan, and Harrison of League City; and their daughter Holly Alfonso, her husband Paul, and their three sons Joey, Nick, and Matthew of Friendswood, Texas. In addition, he is survived by his brother Jim Hembree and his wife Judy of League City. Roger was preceded in death by his parents, Robert Lee and Edna McRae Hembree, and his brother Bob Hembree and his wife, Eiko.
Roger had a profound faith in our Lord Jesus Christ and was proud of passing that love on to his family. He loved life and always saw the good in everyone he met. He was a very special gentleman. His legacy will live on in our hearts until we meet again in Heaven.
In lieu of flowers, the family requests that memorials be given in his name to Texas A&M Singing Cadets or Clear Creek Community Church.
Texas A&M Foundation, 401 George Bush Drive, College Station, Texas 77840. Please designate the Texas A&M Singing Cadets in memory of Roger Hembree in the memo line of the check.
Clear Creek Community Church, 999 Egret Bay Blvd North, League City, Texas 77573. Please designate In Memory of Roger Hembree in the memo line of the check.
Visitation will begin at 9:30am followed by the funeral service at 10:30am on Tuesday, June 19, 2018, at Clear Creek Community Church, 999 Egret Bay Blvd North, League City, Texas, with Dr. Bruce Wesley officiating. To honor Roger and his love for Texas A&M, the family will be wearing business casual maroon or Aggie attire.
Interment will follow at Moulton Cemetery in Moulton, Texas.
The post Roger Melvin Hembree appeared first on Crowder Funeral Home.
View Original Notice ? Roger Melvin Hembree