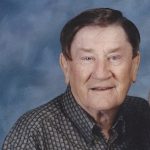 A Memorial Service honoring the life of Lambert (Bert) Benson D.D.S will be held on July 7th, 2018 at 11am at Christus Victor Lutheran Church 2098 W. Main St. League City, TX 77573
LAMBERT (Bert) ARDINE BENSON D.D.S. 96, was a 33-year resident of League City, TX. He was born in Drayton, ND on February 6, 1922, died June 27, 2018 in League City, TX.
Bert was a husband, father, grandfather, great-grandfather and brother. He was preceded in death by his loving wife Lola Jean Nelson Benson of 68 years, his parents Nels and Edith Benson, son John L. Benson, brothers Maurice Benson, Floyd Benson, sisters Genevieve Johnson, Lois Courneya He is survived by daughters Pamela Vincent, Penny Dougherty, Paula Towner, son-in-laws Dr. Thomas Dougherty, John Towner, six grandchildren Jennifer Vincent, Millie Geiger, Bryce Vincent, Kari Towner, John Dougherty and Katie Pitts, sixteen great-grandchildren, Brianna Towner-Johnston, Avery Nakahara, Bethany Trout, Anna Lucas, Tristen Trout, Ellery Nakahara, Ashlyn Dougherty, Caitlyn Towner, Lola Dougherty, Evelyn Geiger, Fiona Dougherty, Wyatt Pitts, Maverick Dougherty, Victoria Geiger, William Pitts, and brother Douglas Benson.
Bert grew up in Argyle, Mn. the oldest of six children he graduated from the University of Minnesota School of Dentistry 1947, Post Graduate School, Bethesda Maryland 1952, Naval Dental School, Bethesda Maryland for Periodontics and Residency Endodontics Course, Master's Degree from Ohio State University 1958. He was one of the first Periodontists in the US.
Bert and Lola were married May 24, 1947. Soon after he became an active duty Naval Officer and lived mostly on the East Coast, Newport, RI, Newfoundland Canada, Maryland, Memphis, TN, Norfolk, VA, Columbus, OH, and Camp Lejeune, NC. Bert was in the Navy for 26 years and had many patients but the most famous was Admiral Rickover of the Submarine Corp. He retired in 1968 at the rank of Captain. After retiring from the Navy, he moved to Nassau Bay TX and became a Professor of Periodontics at the University of Texas School of Dentistry in Houston, TX. In 1972 he opened a private practice of Periodontics in the Clear Lake area. He retired for the last time in 1989.
Bert and Lola moved to League City, in 1985 to live on the golf course at South Shore Harbour. They played lots of golf, bridge and traveled the world. He was a longtime member of Christus Victor Lutheran Church.
Bert will truly be missed by his children, grandchildren, and great-grandchildren who affectionately called him Grandpa Great and friends. Memories will be cherished by all who loved and cared about him.
In lieu of flowers the family requests a memorial donation may be made to Christus Victor Lutheran Church.
The post LAMBERT (Bert) ARDINE BENSON D.D.S. appeared first on Crowder Funeral Home.
View Original Notice ? LAMBERT (Bert) ARDINE BENSON D.D.S.