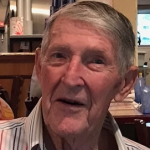 William Starek, Sr (91), of League City, TX passed away on Wednesday July 4, 2018 after a short illness. A native of Cleveland, Ohio son of Josephine & Anthony F. Starek. He will be joining his wife of 68 years Lois M Starek in eternal repose. Bill's is survived by 2 daughters Linda Starek Clark, Patricia S Kneale, a son William Jr. his wife Debra, and 3 grandchildren: Lauren, Christine and Jessica Starek. A brother Conrad Starek a sister Mary Ann Marshall, son-in-laws Carrington Clark, Douglas Kneale and friend and caregiver Thedies Broussard. He loved his extended family of friends, nieces and nephews who returned his affection by their love and respect for him.
A WW2 Army veteran he served his country in the Pacific theatre from July 1945 until his honorable discharge. Returning home to Cleveland, Ohio. William married Lois in 1949 and started a career in retail Super Market management. His attention to business matters earned him a livelihood while supporting a young and growing family. Deciding to enroll in night school at Bryant & Stratton Institute in Buffalo, New York. He coupled his education with seasonal employment at H & R Block Income Tax. Earning his certification in tax accountancy he fulfilled his ambition by creating a professional Bookkeeping and Tax preparation service in Clear Lake, Texas.
He enjoyed his leisure time with Lois and family by traveling and relaxing on Cape Cod and the Galveston shores. Bill was a honest golfer who measured his links success to the number of golf balls saved rather than strokes shaved.
We thank the doctors, nurses and staff at the Heart Tower Clear Lake Regional, Delaney
Retirement Community at South Shore and Providence Hospice for their professional care.
Memorial Services will be held at St Mary's Expectation Church, 1612 E Walker St, League
City, TX 77573 on August 21, 2018. A 9:30 am Rosary Gathering will be followed by a 10:00 am. Mass officiated by Fr. Howard Drabek, Pastor. A post service repast will be held in the church.
With memories of a life well lived a future internment service will be held in Massachusetts National Cemetery Town of Bourne, Massachusetts.
The post William Starek, Sr. appeared first on Crowder Funeral Home.
View Original Notice ? William Starek, Sr.