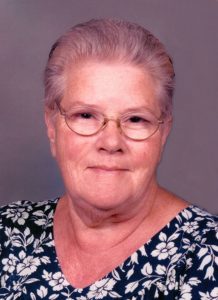 Nettie Jean Pritchard Stelly, 80, of La Marque, passed away Sunday, August 26, 2018.
Funeral services will be held 10:00am, Monday, September 3, 2018, at Queen of Peace Catholic Church.
Nettie was born October 20, 1937 in Rosetta, Mississippi. She was a member of The Ladies Guild at Queen of Peace Catholic Church. She enjoyed gardening, cooking, and sewing for herself and family.
She is preceded in death by her parents, 3 brothers, 2 sisters; and daughter Selina Stelly.
Survivors include her husband, Paul Elry Stelly; daughters Laurie Bolding, Julie Thorp and husband, Ronald; son Robert Stelly; grandchildren, Lorin Longstreet and husband Steven, Craig Trahan, Ian Bolding, Randi Turrubiate and husband Jesse, Jacob Bickham; great grandchildren Aidan, Tyler, and Blaine Longstreet, Cayden Bolding and Mia Turrubiate.
The post Nettie Jean Pritchard Stelly appeared first on Crowder Funeral Home.
View Original Notice ? Nettie Jean Pritchard Stelly