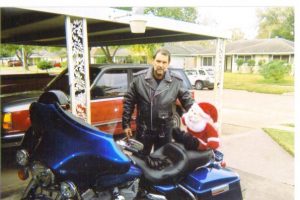 Stephen Wilson Lyford, 62, passed away on August 30, 2018. Mr. Lyford was born May 27, 1956 in Waco, TX. He was a fifteen year resident of Pasadena, TX, formerly of Friendswood, TX and attended Hope Community United Methodist Church in Pasadena; he also was very active with Toys for Tots and Fellowship riders.
Mr. Lyford is preceded in death by his son, Sean Lyford and his parents, Theodore and Rose Lyford.
He is survived by his daughters: Stacy Cashiola, husband Ryan and Stephanie McLin, husband, Jeremy; son, Stephen Lyford, wife Stephanie; brother, Joseph Lyford; grandchildren: Owen Lyford, Elijah Lyford, Amelia Lyford, Kaitlyn Cashiola, Colby Cashiola, Caden McLin, Hailey Elmer and Jonah McLin.
There will be a memorial service at Hope Community United Methodist Church on Friday, September 7, 2018 at 2pm.
In lieu of flowers, please make memorial contributions to Toy for Tots or Hope Community United Methodist Church.
The post Stephen Wilson Lyford appeared first on Crowder Funeral Home.
View Original Notice ? Stephen Wilson Lyford