Perc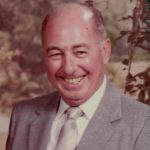 y Clifford Medlock passed away on Thursday, August 30, 2018, in his home at League City, Texas, at the age of 97. Percy was born on September 27, 1920 on the family farm in Akers, Missouri, to Thomas Nathaniel Medlock and Carrie Dooley.
He was preceded in death by Gladean, his wife of 74 years, who passed away a mere 37 days before he did; his parents; his sisters, Dewey "Sis" Duncan and Shirley Een; and his brothers, Austin "Sonny", Norman, Kermit and Russell.
Percy is survived by his daughter, Ann Armintor and husband Allen, and daughter, Janet Linkiwiecz; his 3 grandchildren – Christopher Armintor and wife Maribeth, Amanda McVeigh and husband Rick, and Mollie Armintor; and 3 sisters – Etta Faye Vowells and husband Joe, Lillie Mae Heffernan, and Carol Geldien. He has 4 great-grandchildren: Tyler, Jared and Chloe McVeigh and Grayson Armintor.
Percy starting teaching school in a one-room schoolhouse when he was only 16. He was very small for his age and some of his students were quite a bit larger than him so it was a challenge when discipline became necessary. This challenge went a long way toward preparing him for his Air Force career. He was stationed in the Philippines during World War II as a navigator on a P61 Black Widow night fighter. Percy spent most of his time in the service in missile operations. Toward the end of his career, he led a group of 150 men developing a missile system capable of shooting down Soviet spy satellites. The system involved an Atlas missile that would be launched from an island in the Pacific that Percy commanded for 6 months at a time. His family learned to get by without him during those times. During his years in the Air Force, he was stationed at several locations including Ladd Field at Fairbanks, Alaska (where his oldest daughter, Ann, was born); Keesler AFB at Biloxi, MS (where his second daughter, Janet, was born); Vandenberg AFB near Lompoc, California; Sheppard AFB at Wichita Falls, TX; and Peterson Field and Ent AFB at Colorado Springs. He always regretted that he was never stationed overseas where he could take his family. Percy retired from the United States Air Force in 1970 with the rank of Lieutenant Colonel. Upon retirement, he moved his family to Springfield, Missouri, so he could be close to his and Gladean's elderly parents. He and Gladean lived in Springfield until 1994 when they decided they should move to League City to be closer to Ann in their golden years. It is a decision they never regretted. If he is only remembered for only one thing, it is his sense of humor. He loved a good joke or prank. Even during his last days, he was making his caregivers laugh. Rest in peace, Percy, as you make the angels smile.
Visitation will be held at Crowder Funeral Home, 1645 East Main Street, in League City on Monday, September 3, 2018 from 6:00 – 8:00 PM. The funeral service will be Tuesday, September 4, 2018, at 10:00 AM also at Crowder Funeral Home. The service will be followed by a Fajita lunch at The Fiesta Shack in the back of the parking lot at Estaban's Café y Cantina, 401 W. Main Street, League City.
The post Percy Medlock appeared first on Crowder Funeral Home.
View Original Notice ? Percy Medlock