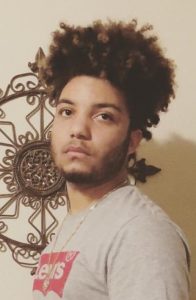 Keegan Takoda Shanks (19) of Texas City, Texas, passed away on September 5, 2018. He was born on July 18, 1999 in Texas City, Texas to Jenae and Joseph Shanks III. Keegan was born with a rare blood disease that caused him to spend much time in the hospital, but despite his illness, he persevered. He graduated from Texas City High School in June 2017. Keegan completed the electrician program at Fluor at the top of his class. He has been employed at Jiffy Lube in Texas City for the past year.
Keegan is preceded in death by his father, Joseph Shanks III. He is survived by his mother, Jenae DeAnne Shanks; grandparents, Ginger and Neal Glass, Michael Burd, and Martha Lee; brothers, Ty Alexander Shanks and Devin James Hines; nieces, Mari and Royale Hines; and a host of other family members and loved ones.
On Monday, September 10, 2018, visitation will begin at 1:00pm, and a memorial service will follow at 2:00pm with Pastor Ronnie Mills officiating at the James Crowder Funeral Home in La Marque.
The post Keegan Takoda Shanks appeared first on Crowder Funeral Home.
View Original Notice ? Keegan Takoda Shanks