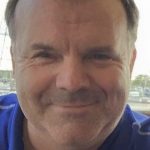 Glynn Thomas Miller, of Seabrook, Texas passed away on Thursday, September 6, 2018 in Seabrook at the age of 51. He was born on November 9th, 1966 in Oakdale, California to Charles Thomas Miller and Cathleen Cain Miller. He is Survived by his wife Dawn Miller, his son Weston, daughters Heather, Madison and Claire, granddaughter Blake, his father Charles Thomas Miller, his brother Casey Miller, and a nephew and nieces.
"CT" was a veteran of the US Navy and enjoyed being on the water and beach life. His effervescent personality touched many people and he always made a friend everywhere he went.
"When Thomas entered the room, you could tell he had a sense of humor. He was a man that could make anyone smile and laugh. The joy that he brought into a room was something extremely special. His funny stories and quick-witted response gave hope to those going through a tough time. We celebrate his memory with the same love and compassion he shared to all. He will be missed dearly but the laughter and joy he gave will live on in all of us. "
********Please note a change in service time and location***********
A Memorial Service will be on Tuesday September 11,2018 at 10:30am at Crowder Funeral Home, WEBSTER LOCATION, 111 East Medical Center Blvd., Webster, Texas 77598.
The post Glynn Thomas Miller appeared first on Crowder Funeral Home.
View Original Notice ? Glynn Thomas Miller