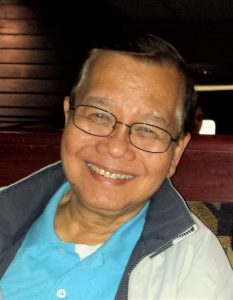 Hermes Capulong Ocera, 74, also known as "Paki" to his grandkids, was called to be with his Lord and Savior on September 25, 2018 in Houston, Texas. Hermes was born on February 1, 1944 in San Fernando, Pampanga, Philippines to Rev. Hector and Magdalena (Capulong) Ocera.
On October 30, 1965 Hermes married the love of his life, Melba Ely Lacsamana Yabut. He graduated from Manila Central University College of Medicine in the Philippines in 1970. He dreamed of a life of opportunity for his family and made the move to Johnstown, Pennsylvania in 1972 where the family was "adopted" by a caring elderly couple they lovingly called Grandma & Grandpa Chapel. In 1977, Hermes moved the family to Houston, Texas, where he was granted a fellowship under pioneering Cardiologist, Dr. Denton Cooley, at the Texas Heart Institute. He spent most of his remarkable career at Danforth Memorial Hospital in Texas City as Chief Anesthesiologist while his family settled down in Clear Lake City, Texas.
Hermes was deeply devoted to his family and loved karaoke parties, potlucks, road trips, holiday get-togethers, and family vacations. (He would often be seen dancing at many of these.) He was a long time fan of the Houston Astros and Rockets, and enjoyed listening (and singing) to the music of Tom Jones, Neil Diamond, and Elvis. He was an avid reader and was always eager to learn new things, including carpentry, gardening, and playing the piano. Hermes was a man of great faith, humility, high character, patience, and incredible loyalty. He genuinely loved people. We will miss his infectious smile, his contagious laugh, his warm hugs, and his kind and compassionate spirit.
Hermes was preceded in death by his father, Hector, his mother, Magdalena, his brother, Hector Jr., and his sister, Heidi Duenas. He is survived by his loving wife of 52 years: Melba Ocera; son: Hermes Jojo Ocera, grandchildren: Elizabeth, Kyle and Katie; daughter: Hermely Mellette Ocera Berezoski and husband, Joe, grandchildren: Joseph, Maysie and Dayton; daughter: Herwina Winnie Ocera, grandchildren: Brody and Trinity; brother: Homer Ocera, and sisters: Hazel Fontanilla and Helen Gorospe.
A memorial service will be held on Wednesday, October 3, 2018 at 11:00am at Clear Lake United Methodist Church on 16335 El Camino Real, Houston, Texas, 77062. Reception immediately following.
The post Hermes Capulong Ocera appeared first on Crowder Funeral Home.
View Original Notice ? Hermes Capulong Ocera