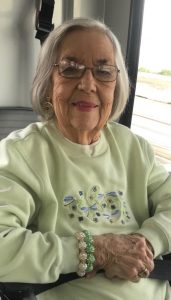 Verna Lucille Sturdivant, 97, passed away October 2, 2018 in Pearland, TX. Mrs. Sturdivant has been a resident of Pearland for over 40 years, she attended Calvary Baptist Church and was formerly a member of the Eastern Star.
She was an only child born in Sparta, N.C. on April 18, 1921. Verna excelled in school both academically and athletically. She was the Captain of the basketball team and received her Letter Jacket as a sophomore. She met and married Cliff, the LOVE of her LIFE, as a junior. She later graduated from Jefferson High School. Only two of her original classmates remain.
Verna was a World Class Harmonica Player, Devoted Wife and a Loving Mom. She was always the life of the party.
Verna joins her husband of 60 years, June Clifford Sturdivant and her parents, Walter and Dora Weaver.
She leaves behind to cherish her memories, daughter, Kay Harwell; sons: Lee Sturdivant, wife Jean, Barry Sturdivant, wife Gloria and Van Sturdivant, wife Karen; grandchildren: Clint Sturdivant, wife Holly, Barry Sturdivant Jr., Andrea Stewart, husband Chris, Kelley Ackley, husband Charlie, Angela Miles, husband Corey, Colby Kreft, wife Mindi, Katie Neal, husband Spencer, Lance Sturdivant and Daniel Sturdivant; great grandchildren: Katy Inman, husband Shaun, Sydney Sturdivant, Dalton Stewart, Ansley Stewart, Carter Eppler, Kaden Ackley, Ellie Neal, Harley Miles and Sawyer Kreft.
There will be a visitation on Sunday, October 7, 2018 from 3-5 p.m. at Crowder Funeral Home in Pearland. Funeral service will begin Monday, October 8, 2018 at 11am in the chapel of Crowder Funeral Home, 2422 E. Broadway St. Pearland, TX 77581. Private family burial at Houston National Cemetery.
Pallbearers will be: Ellis Rankin, Charlie Ackley, Colby Kreft, Spencer Neal, Mike Davis, Chris Stewart and Daniel Sturdivant.
The post Verna Lucille Sturdivant appeared first on Crowder Funeral Home.
View Original Notice ? Verna Lucille Sturdivant