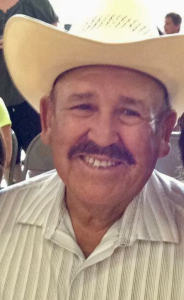 Amalio P. Alvarado (81) of Dickinson, Texas passed away on Tuesday, November 20, 2018. He was born in Santo Domingo, Municipality of Salamanca in Guanajuato, México to Eleuterio Alvarado Arguello and Sabina Perez Paramo on July 10, 1937.
Amalio was a truck driver for over 30 years. He was a hardworking man who had a profound love for his family, especially his grandchildren. He enjoyed riding and breaking horses, dancing and listening to music. He was often found sitting on his porch swing singing to his beloved wife.
Amalio is preceded in death by his mother and father; five brothers and two sisters. He is survived by his wife of 40 years Teresa Alvarado; daughter Maribel Chacón and husband Guillermo; son, Mario Alvarado and wife Lorie; son, Jose Abel Alvarado; daughter, Christina Alvarado and husband Alejandro Aguilar; five grandchildren; Melanie Chacon, Gracie Alvarado, Christian Alvarado, Emmi Aguilar, and Alejandro Aguilar.
The post Amalio P. Alvarado appeared first on Crowder Funeral Home.
View Original Notice ? Amalio P. Alvarado