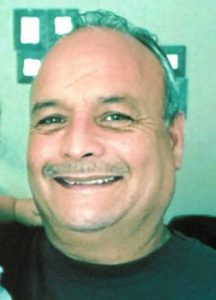 Luciano Adams Flores, 52, of Texas City passed away on Sunday, November 18, 2018. He was born March 25, 1966 in Galveston to Charles and Gracie Flores.
Luciano worked for 17 years with Logix Communications as a Service Technician, he loved the company he worked for, his boss John Vanhook expressed how Lou was a very valuable employee and he has left a void that will be hard to fill. His co-worker Tim Chapman and other coworkers at Logix became his second family and were very important people to Lou.
As we lay to rest Luciano, our "Papa", we would like everyone to know a few things about our husband, father, grandfather, brother, and most of all Best Friend. He was the life of the party, the one that had no filter and you sometimes had to remind him that we had a little one's around because he wanted everyone to laugh. He loved to eat barbeque and drink beer (Bud light) by the pool with his family and friends. Lou, Lou was one of a kind and will be truly forever missed. Two other very close friends of Lou's, David Miranda and P-Mack "Preston" will also find it hard not to send funny text or receive jokes back and forth off and on throughout the day.
Over the years of growing up and going through life changing events Luciano "Lou/Papa" became a very honored, matured and proud husband when him and Holly married and had Grayson and he also was rekindling and reconnecting with his two older children. We as his wife and family have no idea how we will travel in this world or continue journey called life because papa was our life. Although, he was not big on sports he loved calling his brother- in- laws (Wes and Wayne) to talk smack to get them riled about the game. Also, Jimmie, Celina, Anna, and Elaine all meant the world to each other and will have many great memories to help them get through the hard times.
He is preceded in death by his parents and brother Charles Edward Flores.
Luciano is survived by his wife, Holly Jones Flores, daughter Heather Flores, two sons: Grayson Flores and Dustin Flores and wife Nikki, three sisters: Celina Bullock (Wayne), Elaine Zaragoza and Anna Brown (Wesley) and brother Jimmie Flores (Diane), grandchild Axel Flores and his best friends Preston Mack, David Miranda and Tim Chapman and numerous nieces, nephews and friends.
A visitation will be on Saturday, November 24, 2018 from 1:00pm – 3:00pm with a Eulogy from 2:00pm – 3:00pm at the James Crowder Funeral Home in La Marque.
The post Luciano Adams Flores appeared first on Crowder Funeral Home.
View Original Notice ? Luciano Adams Flores