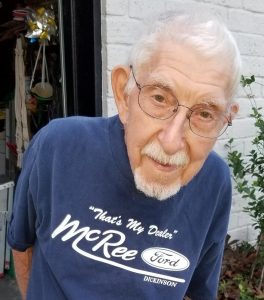 Paul Jehu Fields, passed away on November 8, 2018 at his home in League City, TX, at the age of 94 years old. Paul was born on August 1, 1924 in Dallas, TX to Thomas Wiley Fields and Lillian Laffoon. Paul was an astrophysicist for Ford Aerospace at NASA where he retired after 25 years.
While working for as an astrophysicist, he worked for J.C. Penney in their garden shop as a manager for 18 years. Paul was a Communications Officer during WWII where he served as Corporal in the United States Army. His hobbies included collecting antique coins, gardening, and was a life-long learner. Preceded in death by his dad Thomas Fields, mother Lillian Laffoon, step-father James Washington Laffoon; Brothers Frank Fields, Philip Fields; sister Dollie Fields; Half-Brothers Elmo Fields; James Laffoon; Half-sisters Mary Laffoon; Lottie Godley; Ommie Laffoon; and Great Niece Dawnette Patrick. Survived by Son Cade Allen Plazinich; granddaughter Dawn Hoover; great grandson Matthew Hoover; sister Rose Marie Sturdevant and husband Jerry; and numerous nieces and nephews. The service for Paul Fields will be held on Sunday, December 2, 2018 in the Crowder Funeral Home Chapel in League City, Texas at 3 pm.
The post Paul Jehu Fields appeared first on Crowder Funeral Home.
View Original Notice ? Paul Jehu Fields