Peggy Odenwalder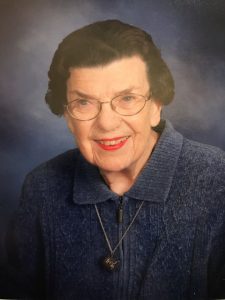 Dickinson –
On Saturday, March 30, 2019, Margaret Lucille Odenwalder passed peacefully from this life. Known as Peggy to all who loved her, she is finally home with her beloved savior, Jesus Christ.
Born July 29, 1931 in Gulfport Mississippi to Anysia and Gibson Hover. Peggy had one sister, Anna Cornell, who she loved dearly and lost too soon. Peggy was married to the love of her life, Ed Odenwalder, for over 63 years. Even in her illness, Peggy never failed to light up and recognize Ed whenever he walked into the the room.
Before meeting Ed on a blind date, Peggy attended Sadie Newcomb (Tulane) College in New Orleans. Peggy loved New Orleans having spent much time there with family growing up. The city held her heart all of her life. She had many stories to tell and never passed the opportunity to visit.
She lived in Dickinson for most of her life where she was a loving mother to her four children, Ed "Trip" Odenwalder (Abbe), Margaret "Bobbie" Pfluger (Wayne), Nancy Belansky (David Queen), and Michael "Odie" Odenwalder (Michelle). She has seven grandchildren who adored her, Evan Smith (Jackie), Michael Belansky Jr, Alex Odenwalder, Zoe Odenwalder, Miranda Belansky, CJ McEntire (Michelle), and Ashley Keller. Peggy has three treasured great grandchildren Maci, Rylan, and Clayton.
Peggy is finally reunited with her loved ones in Heaven, her mother, father, sister, and brother-in-law Bruce Cornell, and most especially, her precious baby John Joseph.
Peggy spent her life in service to her church, Shrine of the True Cross. Over the years, she spent many hours working in various ministries at her church and school. She was an avid supporter and volunteer at M.I. Lewis Thrift Shop. Peggy loved her time spent with her many friends from her Theta Delta Beta sorority. For years, they worked quietly serving those in need in Galveston. Much laughter and joy was shared amongst them.
Peggy's good works spread far beyond what we could ever see. She was always the one working silently behind the scenes. Always willing to step in whenever needed.
Although Peggy loved Texas, a big piece of her heart always remained with the Mississippi Gulf Coast. After her sister, Anna, passed many years ago, Peggy loved her precious nieces and nephew as if they were her own. Brucie Libby, Marian, Cynthia, and Charles were forever in her heart. As their families grew, Peggy embraced their spouses and their children. Also special to Peggy were her many nieces and nephews from the McAllister and Odenwalder families.
Visitation will be at Crowder Funeral Home in Dickinson on Tuesday, April 2 from 5-8 pm with a Rosary beginning at 7 pm. A funeral mass will be held at Shrine of the True Cross Church in Dickinson on Wednesday, April 3 at 10:30. In lieu of flowers, the family is requesting donations be made to Shrine of the True Cross .
The post Peggy Odenwalder appeared first on Crowder Funeral Home.
View Original Notice ? Peggy Odenwalder