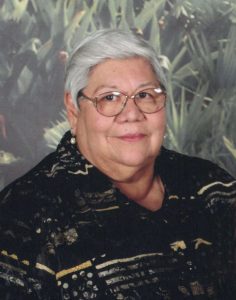 Anita Marie Trevino was born December 14, 1940 in Galveston, TX to Celso Vargas and Anita Saenz. She departed this life Wednesday, April 3, 2019 surrounded by her children and family. Anita loved her family. Her legacy was the good works performed for the Catholic Church. Her time was spent in a number of organizations: Extraordinary Minister, Society of our Lady of Guadalupe, St. David Auxiliary Fire Department, A.C.T.S., Youth Prison Ministry, Guadalupanas, Cursillo, Ladies Guild and Benedict Oblate of St. David. She enjoyed arts and crafts, cooking, shopping, and traveling with her husband and children. She held a true devotion to Our Lady of Guadalupe and Virgen de San Juan.
Anita is preceded in death by her mother and father, husband; Rogelio Trevino and granddaughter; Monique Martinez. She is survived by four daughters; Anita Galicia (Tony), Mary Torres (Robert), Cynthia Mejia (Louis), and Margaret Nunez (Mauricio), two sons; Jesse Yanes (Maria) and Cleto Yanes, Jr. (Anna), adopted son; Luis Betancourt, five sisters, 14 grandchildren, 17 great-grandchildren, and many nieces and nephews.
Visitation will be held Sunday, April 7, 2019 from 5:00-7:00 with a Rosary beginning at 7:00 at Queen of Peace Catholic Church in La Marque, TX. The Rosary will be recited by Magdalena Mata followed with a word from Pastors Rudy Soto and Ray Perez. A funeral service will be held on Monday, April 8, 2019 at 2:00 at Queen of Peace Catholic Church, with Father Chacko Puthumayil officiating. Services will be under the direction of the James Crowder Funeral Home of La Marque.
In lieu of flowers, donations may be made to the Queen of Peace Catholic Church (1224 Cedar Street, La Marque, Texas 77568).
The post Anita Marie Trevino appeared first on Crowder Funeral Home.
View Original Notice ? Anita Marie Trevino