Helen Gene "Jeannie" Fontaine
May 7th, 1945 – April 3rd, 2019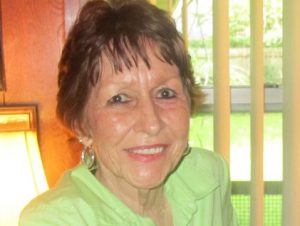 Jeannie Fontaine was born May 7th, 1945 to Burl and Helen Lynn in Sweetwater Texas. She had one brother, Henry Clay Lynn whom she cherished throughout their lives. The family moved to Fort Worth where she met her lifelong friend, Jan Gandy before moving to Lubbock. Jeannie and Jan held their friendship throughout their lives and spoke endlessly of the times they were little girls playing "down the road by the stop sign". They would go on to form a very special alliance called "The Spoon Sisters". (Jeannie, Jan, Betty)
Jeannie married Tim Fontaine on August 1st, 1964. They had 3 sons, Tommy, Jason and Michael. Jeannie was not only a mom to her 3 sons, but she was mom to an entire community of friends. From her homemade pies to countless homemade meals – she ensured an entire community felt the love she held for each and every one of them. From being Team Mom for the Dickinson Little League Vikings Football to endless sleepovers, Jeannie made sure the house was a home for many, many friends. She was our mom, but she was so much more – she was our Nana. Nana always had chocolate/lemon/pecan pies. Nana always had a good hot meal for friends to share. Nana always had fresh tea. Nana always, always loved those who entered our life. That was our Nana.
Jeannie is proceeded in death by her parents, Burl and Helen Lynn, and her in-laws Jeff and Lanie Fontaine. She leaves to cherish her life and memory a brother, Henry Clay Lynn (Debbie). Also losing their beloved buddy are her "fur-babies" Snow and Chloe. It was 6 years ago that she lost the greatest love of her life, Tim Fontaine. The two met while babysitting his nephew and their love spanned 48 wonderful years and created three sons: Tommy, Jason (Irma) and Michael. Jeannie had 9 grandchildren: Nicholas, Haley, Timothy, Logan, Landon, Austin, Christian, Matthew and Payton.
You have, are and will forever by our "Little Lady". You were our Nana and our everything. Our hearts are forever broken, and we will forever be grateful for having you in our lives. Thank you so much, mama – we love you and will cherish your memory until the day we are all together again. Our only hope is you are "down the road by the stop sign" with happiness and joy in your heart. You were and will forever be the breath in our lives.
Visitation will be held Monday, April 8th, 2019 from 10:00 a.m. to 11:00 a.m. at Crowder Funeral Home in Dickinson, Texas with a service to follow at 11:00 a.m.
The post Helen Gene "Jeannie" Fontaine appeared first on Crowder Funeral Home.
View Original Notice ? Helen Gene "Jeannie" Fontaine