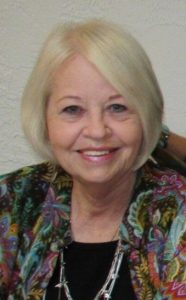 Ann Elizabeth Smith, 74 a resident of Pearland, TX for 23 years, passed away April 9, 2019. Ann was born to Tryon "Bud" and Erma Lea Lewis on June 3, 1944 in Corsicana, TX.
Ann Elizabeth "Betsy" Smith was a beloved Wife, Mom, Mimi, Sister, and Friend. Betsy was married to Wes for 33 years. There love spanned decades and even death. You could open any cabinet in her home and there was a love note from Wes. Betsy was well known for her long term and long-distance friendships. She would go out of her way to make sure cards and gifts were sent, no matter the cost or time. If you were Betsy's friend you knew it, as it was a lifelong friendship. This was the same with her grandchildren, she always made sure there were Halloween treats, Easter baskets and bunnies, and time spent making cookies, cakes, or baked items. Everyone one of her grandchildren had a special dessert they loved of hers. Betsy's love for her cats was resolute, so much to the point, there were times she would not go out of town for events when she was unable to find someone to cat sit. She also enjoyed making flower arrangements for weddings, painting and doing arts and crafts. She so often painted murals on walls for nurseries that she had a full photo album of her special work. Betsy will be missed in so many ways as she brought light and love to everything she touched.
Ann reunites with her husband of 33 years, Wesley Earl Smith Jr. and her parents.
Ann leaves behind her sons: Wesley Earl Smith III, wife Sandra and Tryon Cody Smith, wife Kelli; grandchildren: Kayla Smith, Wesley Smith, Drayton Smith and Daphni Smith; great grandchild, Laurel Gleckler; sister, Barbara Marie Southern; brother Tryon Dexter Lewis, wife Trudy.
There will be a visitation from 2-4pm Thursday, April 18, 2019 with a service to begin at 4pm in the chapel of Crowder Funeral Home in Pearland.
In lieu of flowers, please make memorial contributions to: ASPCA, 1-800-628-0028 aspca.org on Ann's behalf.
The post Ann Elizabeth Smith appeared first on Crowder Funeral Home.
View Original Notice ? Ann Elizabeth Smith