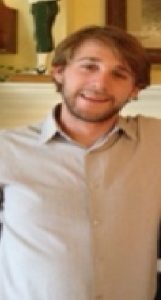 Shane Patrick Golden of Houston, Texas passed away Thursday, April 11, 2019 at the age of 28. Shane was born on September 1, 1990 and placed immediately to his adopting parents Diana Sutton (Houston, TX) and Tim Golden (St. Paul, MN) in Oklahoma City, OK. Shane grew up being raised in loving homes both in Texas and Wisconsin. Shane graduated from Homestead High School, Mequon, WI in 2008 with honors. He attended the University of WI La Crosse majoring in Philosophy. Shane's passion in life was reading, writing and understanding the different philosophies of the world. Shane has made many friends along his journey through his short life & travels. He loved snow skiing
and was by far the best skier in our family always pushing us to our limits on the mountains. He sailed both recreationally and competitively since age eight on; Optimist, C 420's, J 35 & J109's. He has touched many lives with his most caring heart.
Shane is survived by his adoptive parents Diana Sutton (Tom), Tim Golden (Joan), brothers Reeves and Jakob Sutton. Grandmother Jane Golden, Uncles: Jim Golden (Nancy), John Golden (Denise), & Dan Smith. Aunts: Kathy Thesing (Greg) & Debbie Clark (Bill) & numerous cousins. Shane is preceded in death by Grandparents Gene & Betty Smith and Grandfather James J Golden.
The Family will receive friends on Monday, April 15, 2019 from 6-8:00pm at Crowder Funeral Home, 1645 East Main, League City, Texas 77573. A Funeral Mass will follow on Tuesday at 10:30am at St. Mary Catholic Church, 1612 East Walker, League City, Texas 77573 with Father Howard Drabek presiding. Interment will be held at South park Cemetery in Pearland, Texas.
The family requests in lieu of flowers or gifts that a contribution is considered in Shane's memory to the National Alliance on Mental Illness (NAMI). https://www.nami.org/Get-Invo…/Donate-to-NAMI/Waysof-Giving
The post Shane Patrick Golden appeared first on Crowder Funeral Home.
View Original Notice ? Shane Patrick Golden