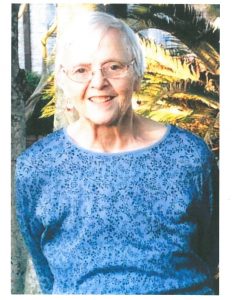 Sandra 'Sandy' Jean Cox Bishop, 78, of Pearland, Texas passed away peacefully on April 13, 2019. Sandra was born on March 3, 1941 in Peoria, Illinois. She was preceded in death by her father George Cox, parents Clifford and Maxine Schifeling, and her twin baby brother, Donald. Sandy had a servient heart, always putting others before herself, helping many people and charities over the years. Sandy was a top bowler in her league for many years, Girl Scouts leader, softball coach, and involved with Pearland Little League as a volunteer. She worked several years for Pearland State Bank and Packaging Service/Solvents & Chemicals in Pearland. Sandy worked hard her entire life and endured many illnesses and personal challenges during the last few years but she continued to remain strong and feisty. Her grandchildren were the center of her universe and they were fortunate to share so many wonderful times and memories together. Sandy loved her yard, her pets, her Bluebell Ice Cream and spending time at their getaway property at Camp Creek. She is survived by her loving husband of 40 years, Morris Bishop; sister Karen Roberts and husband John; son Craig Nussman and wife Alice; daughter Cristen Wood and partner Christopher; stepson Brandon Bishop and wife Melissa; and her many grandchildren (and respective spouses).
The family would like to express their deepest gratitude to Dr. Mia Singleton and her staff at Heavenly Manor for their loving care and compassion for Sandy.
At Sandy's request, no visitation or funeral services will be held. However, a 'Celebration of Life' event will be held at a later date. In lieu of flowers, the family has requested donations to the Susan G. Komen Breast Cancer Foundation or the Alzheimer's Association on behalf of Sandy.
Susan G. Komen: http://www.infokomen.org/site/TR/DIYFundraising/HeadquartersSite?px=24893333&pg=personal&fr_id=7343
Alzheimer's Association:
http://act.alz.org/site/TR/Events/Tributes-AlzheimersChampionspxfid=544707&fr_id=1060&pg=fund
The post Sandra 'Sandy' Jean Cox Bishop appeared first on Crowder Funeral Home.
View Original Notice ? Sandra 'Sandy' Jean Cox Bishop