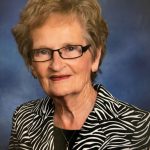 Marie Magdalene Trahan of League City, Texas passed away Thursday, April 18, 2019 at the age of 83. Marie was born on July 22, 1935 in Brenham, TX to Pete and Stella Gurka.
Marie is preceded in death by her parents Pete and Stella, husband Frank Derkowski, daughter Evelyn Derkowski, brother Philip Gurka and husband Gerald Trahan.
Marie is survived by her son Frank Derkowski Jr. and wife Nancy, her daughter Carol Brunson and husband Aaron, Stepdaughters Geri Trahan, Tracy Trahan Bannerman, Cyndi Trahan Bettinger, Andrea Trahan Vaughn, Sister Lillian Cossey, Brother James Gurka and wife Sue, Grandchildren Tara Cervi and husband Chad, Adam Brunson and wife Sarah, and Zachary Brunson.
The Family will receive friends on Monday, April 22, 2019 with a viewing at 5:00 pm and Rosary at 7:00 pm at Crowder Funeral Home, 1645 East Main, League City, Texas 77573. A Funeral Mass will follow on Tuesday 10.30am at St. Mary Catholic Church, 1612 East Walker, League City, Texas 77573. Interment will be held at Forest Park Lawdale Cemetery in Houston, Texas. In Lieu of flowers, you may send memorials to the American Heart Association.
The post Marie Magdalene Trahan appeared first on Crowder Funeral Home.
View Original Notice ? Marie Magdalene Trahan