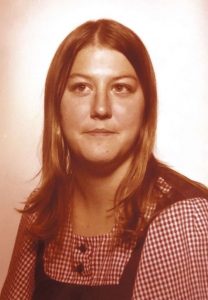 (Walton) age 65, of Galveston, TX passed away on Wednesday, August 28, 2019 surrounded by her loving family. A visitation will be Wednesday September 4, 2019 at 10:00 a.m. followed by a memorial service starting at 11:00 a.m., at James Crowder Funeral Home in La Marque, TX 77568.
She was born September 19, 1953 in Galveston, TX to Willie Frank Walton, Sr. and Margaret. She was the youngest of their four children.
Margarette loved her husband, daughters, grandkids, family, and friends dearly. She loved having her 3 cats Jake, June, and Butthead. Margarette was the best wife, mom, maw maw, sister, aunt, cousin, and friend. She had a huge heart and was always there when you needed her.
She was proud to be BOI and enjoyed the island life. She loved talking on the phone and you could always count on a daily phone call from her. Margarette loved cheering on the Astros and listening to music. She loved to travel with her family and friends.
Her presence whether it was in person or over the phone would brighten your day. She was someone who everyone loved and made everyone feel loved back. She will forever live in the hearts of all who knew and loved her.
She is preceded in death by her parents, sister Willie Carrol Hysmith and niece Angela Cameron. Margarette is survived by her loving husband of 43 years, David Balusek, two daughters; Ronnica Tucker (Clint) and Amanda Balusek (Ricky), two sisters; Mary Cameron (Gary) and Dottie Mosier, brother Willie Walton, Jr. (Delores) her three grandchildren; Christina Doss, Chase Tucker and Riley Santos and numerous nieces, nephews, extended family and friends.
The post Margarette Carroll Balusek appeared first on Crowder Funeral Home.
View Original Notice ? Margarette Carroll Balusek