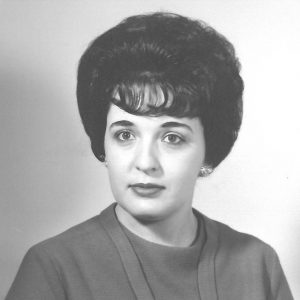 Sarah Jane "Sally" Knight passed away on September 17, 2019 due to complications from diabetes. She was born Sarah Jane Secrist on November 4, 1933 in Bowling Green, KY to her parents, Ruby and Edward Secrist. Sarah graduated from Shawnee High School in Louisville, KY in 1951. In April, 1952, she married Charles Sidney Finch of Jackson, TN and had two beloved children, Victoria Finch, born in 1955 and Bruce Finch born in 1956. Sally was a devoted mother, with a lifelong interest in reading, poetry and meeting new people.
She divorced Charles Finch in 1966, and in 1975, married Richard Knight of Knoxville, TN. They divorced in 1990.
Sarah worked in Human Resources for IBM Corporation for 25 years in Clear Lake City, TX and leaves behind many dear friends from those years which brought great joy to her life.
Sarah is survived by her daughter, Victoria; son, Bruce; grandchildren: Erik, Rachel, Annie, and Lily Finch; nieces: Audrey Theiler and Brenda Kocsis, and her many devoted friends. She was a thoughtful, kind, and generous spirit who will be deeply missed.
Sarah will be cremated, with a private memorial service and scattering of ashes at a later date.
The post Sarah Jane "Sally" Knight appeared first on Crowder Funeral Home.
View Original Notice ? Sarah Jane "Sally" Knight