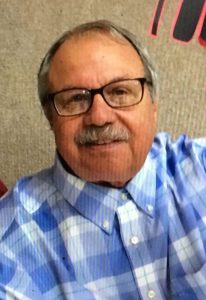 Howard Walter Hawthorne of Seabrook, TX passed away September 3, 2019 in Houston, TX. Howard was born on December 9, 1946 in Catskill, NY. He has been a resident of Seabrook for the past 23 years, but his heart never left New York.
Howard is survived by his wife of 44 years, Christine Pilsch Hawthorne; children: Jacob Hawthorne, Allison (Hawthorne) Swenson and William Hawthorne; 6 grandchildren whom he loved dearly: Joseph Hawthorne, Carter Hawthorne, Bradley Swenson, Cole Swenson, Abigail Hawthorne and Brooklyn Hawthorne adored their PaPa. Howard is, also, survived by his brothers: Peter Hawthorne and William Hawthorne, and his sister, Louise Hawthorne-Foss. He was preceded in death by his son, Ian, and his grandsons, David Swenson and William Swenson.
After working as Curator of Mammals at the New Orleans Zoo in New Orleans, LA and overseeing the beginning of its magnificent renovations, Howard went to work for Cooper/T Smith (CTS) Stevedoring in New Orleans. After 14 years, Howard left CTS to work as a consultant with the Port of Albany in Albany NY.
In 1999, Howard became the first director of the Port of Victoria in Victoria, TX where he oversaw the completion of the widening and deepening of the 35-mile Barge Canal and the extensive expansion of the Port of Victoria Turning Basin, more than doubling the Port's revenue and tripling its assets. He developed the first industrial park at the Port and designed its first administration office.
A battle with cancer made it necessary for him to retire, but he continued to remain active in the Maritime industry.
Howard was an Eagle Scout who never lost his love of the outdoors. He enjoyed fishing, swimming in his pool, and reading. Ever the entertainer, Howard loved cooking feasts for his family from his extensive cookbook collection. He was, also, a lifelong loyal Cleveland Indians fan.
There will be a memorial service at St. Thomas the Apostle Episcopal Church in Nassau Bay, TX on Saturday, September 28 at 10:00 am.
In lieu of flowers, the family requests that donations be made to B.I.G Love Cancer Care, an organization that works with Texas Children's Hospital, providing love and support to cancer kids and their families. (biglovecancercare.org)
The post Howard Walter Hawthorne appeared first on Crowder Funeral Home.
View Original Notice ? Howard Walter Hawthorne