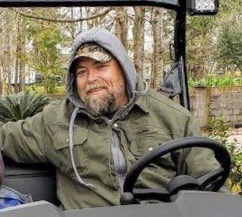 Steven "Steve" Lee Russell, 48, passed away September 19, 2019. Steve was born in Anchorage, Alaska on February 21, 1971. Steve has been a long time resident of Rosharon, TX and worked for Brazoria County Road and Bridge for 17 years.
Steve reunites with his wife of 27 years Kimberly Russell and is also preceded in death by his mother, Edna Russell.
Steve is survived by his father, Robert Russell, wife Susie; mother-in-law Darlene Laney; brother, Bobby Russell, wife Carolyn; brother-in-law Jeff Laney, wife Kelly; girlfriend, Patricia Danos; nieces and nephews: Stevie Russell, Bobby Russell II, Desiree Cloudy, Dillon Cloudy and Derreck Cloudy, Jessica Owens, husband Billy; Cody Laney and Blair Bridges; numerous great nieces and nephews.
There will be a visitation 3pm to 6pm on Sunday, September 22, 2019 at Crowder Funeral Home 2422 E. Broadway St. Pearland, TX 77581. There will also be a visitation Monday, September 23, 2019 at 11:00a.m. with a service to follow at 12:00 p.m in the chapel of Crowder Funeral Home with a burial to follow at South Park Cemetery in Pearland, TX.
Pallbearers serving will be: Jeff Laney, Cody Laney, Billy Owen, Stevie Russell, Dillon Cloudy, Derreck Cloudy, Bobby Russell II, Mike Blissitt.
The post Steven "Steve" Lee Russell appeared first on Crowder Funeral Home.
View Original Notice ? Steven "Steve" Lee Russell