Views: 2
Read Time:
2 Minute, 27 Second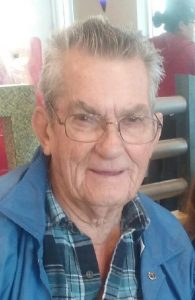 Billy F. Williamson
8/14/40 – 10/20/19
Long time Bacliff / San Leon area resident Billy F. Williamson passed away peacefully in his sleep on Sunday night 10/20/19 while in the hospital for treatment of pneumonia and other medical complications. Daughter Debbie was by his side at his passing.
Billy was a kind soul, and remained active cutting yards and socializing with friends and neighbors until this illness. On behalf of my father, I wish to thank the wonderful staff and physicians at HCA Houston Mainland Hospital in Texas City for their kind, compassionate treatment of my dad during his care in their facilities. They were supportive of his wishes and did their very best to bring him back to health, and in the end, provide him with comfort and dignity as he passed. He lived life fully and his family, loved ones and friends are so grateful for this blessing.
I also wish to thank my family so many of those in the local community who offered me support during the past two weeks while my dad was hospitalized. Neighbors cared for Bill's yard, looked after his house and cared for his cats – all things that brought dad comfort and peace of mind. These same neighbors and numerous friends from dad's yard care work, social groups and restaurant buddy circles lifted him in prayer for healing and peace. I and my family will forever be thankful to you all for your sense of community and care. Dad was so touched by all you did for him in his time of need.
A memorial service in remembrance of dad will be held at Crowder Funeral Home in Dickinson on Saturday, October 26, 2019 at 4pm. Dad's wishes are for cremation and no viewing, and this will be honored. If you are able to do so, please come by, sign his book, share stories and dialogue with others during this time. Dress casually – dad was uncomfortable being "dressed fancy" and would want everyone to be comfortable. Those unable to attend the memorial are welcome to log on to the Crowder remembrance site at www.crowderfuneralhome.com and post electronic messages. I will read each and every one.
If you wish to do something further in remembrance, my dad would be honored for you to donate to Galveston County Animal Resource Center, 3412 Loop 197 North, Texas City, Texas 77590. Dad was a great lover of animals and I know this will bring him joy.
I will intermittently be at dad's home and you are welcome to stop and visit when I am there. My contact information is:
Debbie Flores
436 High Grove Rd.
Cedar Creek, Texas 78612
Cell: 512 826 0476
The post Billy F. Williamson appeared first on Crowder Funeral Home.
View Original Notice ? Billy F. Williamson