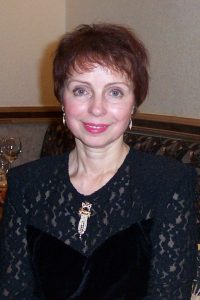 Natalia Nikolayevna Lyashman died Saturday, 16 May 2020, at her home in Webster, Texas, from health complications.
She is survived by her daughter, Veronika, son-in-law, Skip, and by two grandchildren, Kolya and Viviana.
Natalia was born to Vera Ivanovna Ivanova and Nikolai Nikolayevich Ivanov in 1945 in Leningrad (St Petersburg), Russia. She lived in Estonia, Finland, and then in Severodvinsk, Russia, in her childhood and youth and later returned to Leningrad to earn a degree in geography at the Leningrad State University. After teaching geography, she became an economist and later an accountant. Upon retiring, she moved to Webster, Texas, to be near her daughter and grandchildren.
She was a great lover of art, ballet, great literature and history. Being a geographer, she had a passion for world travel, visiting over twenty countries.
After moving to Texas she fell in love with it – its climate, culture and people. Houston became her second home. All of her life she lived near a coast, so Galveston became her favorite place.
She loved animals, especially cats (she was a Cat Lady, but not a Crazy Cat Lady), and enjoyed being in nature, taking walks through different parks in the Clear Lake area. Her balcony looked over a bayou, where she enjoyed watching ducks and ducklings, herons, nutria, opossums, turtles, and the occasional alligator.
She stayed active and practiced tai chi along with her grandson.
She was a devout believer of the Russian Orthodox Christian faith. Due to the pandemic the memorial service has been postponed. A private blessing of the body by a Russian Orthodox priest was held.
In lieu of flowers, please consider donating to Friends of League City Animal Shelter, the organization that helps homeless and abandoned animals; this is where Natalia adopted her beloved and faithful feline companion, Pierre.
The post Natalia Nikolayevna Lyashman appeared first on Crowder Funeral Home.
View Original Notice ? Natalia Nikolayevna Lyashman