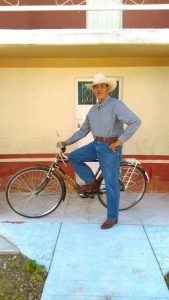 Manuel Leyva Meave, 82, resident of Bacliff, Texas passed away September 22, 2020 in Webster, Texas. He was born October 20, 1937 in Paso Blanco, Pinos Zacatecas, Mexico to parents Francisco Leyva Macías and Petra Meave Ibarra. Manuel was a member of Shrine of the True Cross Catholic Church in Dickinson, Texas. He worked twenty years in Mexico and thirty years in the United States.
He is survived by his loving wife, Celia Regalado; daughters, Ernestina, Marisol, Ofelia, Francis, and Hermira Leyva; sons, Jose, Juan, Samuel, Ernesto, Raymundo, and Juan Manuel Leyva; sisters, Mercedes and Maria Guadalupe Leyva; brothers, Ezequil, Pedro, Apolinar, J. Concepcion, and Felipe Leyva; and twenty-eight loving grandchildren.
A visitation will be held from 2 p.m.-6 p.m. on Sunday, September 27, 2020 at Crowder Funeral Home in Dickinson, Texas with a funeral service beginning at 5:00 p.m. He will be buried at a later date at the community Cemetery, in La Cruz, Pinos Zacatecas, Mexico.
The post Manuel Leyva Meave appeared first on Crowder Funeral Home.
View Original Notice ? Manuel Leyva Meave