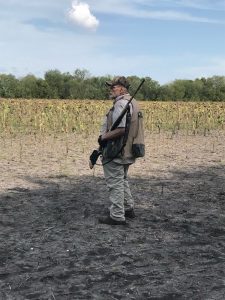 Richard Aubrey Ware, 66, passed away on October 27,2020 at UTMB Jennie Sealy Hospital in Galveston, Texas. Rick was born January 28, 1954 in Texas City, Texas to Joe and Jeannie Ware. He lived in Galveston County throughout his lifetime, making many lifelong friends. Rick was a Pipe Welder at Union Carbide, then Dow Chemical, retiring in 2015. He was an avid hunter and fisherman, spending many, many days hunting deer in Crocket and Geese in Garwood. He also made many fishing buddies over the years at Seawolf Park.
He married his wife Renee on June 18, 1976, and together they had three daughters. Rick and Renee supported those girls in everything they wanted to do, from showing dogs, showing horses and barrel racing, raising livestock, playing softball, and attending high school football games.
Rick has joined his parents in Heaven, along with his hunting partners, Lacey Jay, Liza Jane, Brue, Pirouge, and Duke. Rick is survived by his wife of 44 years, Renee. His daughters and sons-in-law Tammy and Jonathan McCrumb, Mandi and Scott Pell, and Jamey and Brandon Briggs. Grandchildren Gavin McCrumb, Brooke Aubrey McCrumb, Dalton Pell, Ashly Pell, and Jack Briggs. Siblings Mike Ware, Lottie Williams, and Donna Graves, as well as many nieces and nephews. He also leaves behind his dogs Roxane, Max, Annie, and Jake.
His family would like to thank the Neurosurgery Team and Dr. June Yowtak Guillet at UTMB for the excellent care they provided in his final days. Additional thanks go to Dr. Megan Berman at UTMB and Dr. Paul Mansfield at MD Anderson. Without their amazing and remarkable care and support, Rick would not have been able to make it through the past eight years.
A visitation will be on Friday, October 30, 2020 from 1 p.m. to 2 p.m. followed by a service at 2p.m. in the chapel of Crowder Funeral Home in Dickinson.
Honorary Pall Bearers are Justin Herrera, David Tyler, Douglas Ivy, Sammy Sifuentes, Bill Hadley, John Thiem, and John Riley.
In lieu of flowers, the family asks that memorial donations honoring Rick be made to Galveston County Fair and Rodeo Scholarship Fund (https://www.galvestoncountyfair.com/).
The post Richard Aubrey Ware appeared first on Crowder Funeral Home.
View Original Notice ? Richard Aubrey Ware