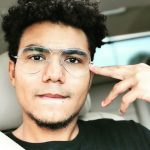 Hunter Jerome Logan passed away on March 28th, 2021 in Clear Lake Texas at the age of 24.
Born on August 12, 1996 in Houston, Texas to Simone Karstedt and Jerome Logan.
Though his life was brief, it was packed full of adventure. Hunter enjoyed the outdoors, floating the river, spending time at the beach, fishing, and any kind of fun in the sun. He loved great food, puppies, sports, cars…FAST cars, trucks, building car kits…basically if it had wheels and an engine, he was a fan! He was so smart; he had an incredible gift with electronics, car engines, and assembling things. Hunter was a lover of people, this is evident in the number of friends he had. He had the most beautiful sparkling eyes, he was charming and full of life, always fashionable, and when he walked into the room he couldn't be ignored. He was so charismatic that there wasn't a job he couldn't get and not a thing he couldn't sell you. Anywhere he went, be brought the party, he made people laugh, and that brought him such joy. For those he was close to, he went above and beyond to protect them. He was fearless and free spirited. He was a fighter…an overcomer, he had knee surgery, brain surgery, and he was part of a shooting accident, but he never let it slow him down. There was nothing superficial about Hunter, he wanted to know who people really were and in return, they would get to know the real Hunter. He was a deep thinker and feeler; he had such deep compassion for others. His daughter, Avery, was his pride and joy, when he was with her he lit up like nothing you have ever seen; the smiles between the two of them were infectious. Hunter was so deeply loved and cherished by his family and friends, and we have peace in knowing that he is home safe with his Heavenly Father, the one who created him, the one who loved him first.
Hunter is preceded in death by his grandfather, Henry (Pops) Logan.
Hunter is survived by his Mother, Simone Karstedt, and Step-Father David Karstedt, his brother Jackson Karstedt and his father Jerome Logan, his grandparents, Colin and Carol Evans, Louise Logan and De Anna Karstedt, and his daughter Avery Breis and numerous aunts, uncles, and cousins.
His celebration of his Life will be held Saturday April 17th for a public viewing from 9-11 a.m. with services at 11:00 a.m., reception following.
In lieu of flowers, please send donations to Shiloh Ministries PO BOX 10226 Liberty, TX. 77575 or on their website at www.shilohmensministries.com
The family will be setting up a trust fund for Hunter's surviving 5 year old daughter, Avery and you can choose to donate to Venmo account. @David-Karstedt
The post Hunter Jerome Logan appeared first on Crowder Funeral Home.
View Original Notice ? Hunter Jerome Logan