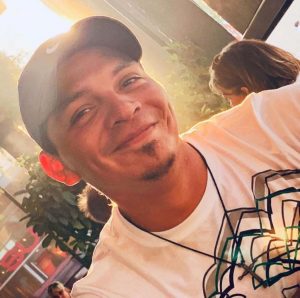 Roland Rene DeLuna, 29, a resident of Pearland, TX passed away unexpectedly March 27, 2021 in Pearland, TX. Roland was born in Houston, TX December 18, 1991. Roland was a loving and devoted husband, father, son, and brother. He was a member of New Hope Church.
Roland leaves behind to cherish his memories, his wife Christian DeLuna; children: Kenzie DeLuna, and Nicole DeLuna; stepdaughters: Jaquelyn Estrada-Reyes, and Aria Hundley; stepson, Lucas Hundley; mother, Natalie DeLuna, father, Cesar DeLuna; sister, Amanda DeLuna; brother, Nick DeLuna.
Roland lived life to the fullest. He was always trying to make people laugh and always willing to lend a helping hand. He lived his life for his family; his children and wife were his world. There wasn't a day that the words, "I love you," were not said to his family. He would always say that his favorite part of the day was getting home from work to Aria running to him screaming "daddy, daddy," and then being able to kiss and hug his wife. What gave Roland the biggest smiles was when he spoke about his two beautiful girls, Nicole and Kenzie. They were his reason for living.
Roland learned to embrace his sensitive side. He and his wife used to say that they completed each other because his softness tendered her toughness. He showed her what true love was and was her number one supporter. He was always eager to help take things off of her plate so that she could spend her time working on school work. The kids loved those days because they knew that meant dad would play outside with them a little longer and that dinner probably contained some amount of sugar.
Roland will be greatly missed by many. He was the most outgoing person you could meet and couldn't go anywhere without running into someone he knew. He had no ounce of shyness and knew no stranger; It's something he passed on to his children. His legacy will carry on through them and he will forever be in their hearts. May you rest in peace and watch over your loved ones.
Visitation will be held from 5 p.m. to 9 p.m. Monday, April 5, 2021 at Crowder Funeral Home in Pearland. Funeral service will begin at Crowder Funeral Home, Tuesday, April 6, 2021 at 10 a.m. Burial to follow at Forest Lawn Cemetery.
Pallbearers serving will be Nicolas DeLuna, Cesar Amaya, Carlos Amaya, Alex DeLuna, Adam Rincon, Tarik Prejean, Thomas Garcia Jr., and Aaron Vazquez.
The post Roland Rene DeLuna appeared first on Crowder Funeral Home.
View Original Notice ? Roland Rene DeLuna