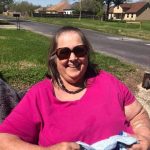 Chula Bryant, 76, went home to her savior at the end of March in 2021. She wasorn to Harold and Nan Pugh on April 10th 1945 in Harlingen Texas. She and her brother Dan grew up in Laredo Texas. Chula had many interests and was involved in many activities: church services, dance classes, Girl Scouts, school academic clubs, helping her mother entertain guests, and helping her father at his produce shipping company.
Her first academic love was physics. She wanted to do optics research because she "was entranced by wave theory". But since women in that time were typically not involved in the Sciences, she found her second love; teaching math. Chula graduated from the University of Houston in 1966 and began teaching that same year. She later earned a master's degree from U of H Clear Lake and taught in the Clear Creek Independent School District for 44 years. During her time teaching she always went the extra mile for her students, attending sports functions and concerts galore. She genuinely cared about them and wanted them to know they were important to her.
In her free time, Chula loved to go on road trips, go camping, play games, read, crochet, make silk flower arrangements, sew clothes and table decorations, as well as many other crafts.
She is preceded in death by her brother Dan who moved to Heaven in late January of 2021. She and Dan shared a love of travel, Mexican food, fancy dinners at home, and continuing family traditions – especially on holidays.
Chula is survived by her children: daughter Elizabeth, son Martin, new daughter-in-love Jessica, and step-granddaughter Cayley. She was her children's biggest fan and supported them unconditionally. She attended every Scout meeting, voice recital, Latin event, space design meeting, church function, and choir/band concert. She made sure her children had a real relationship with Jesus and that they knew they were her priority.
A viewing and visitation will be from 4pm till 8:00pm for Mrs. Bryant at the Crowder Funeral Home in League City (1645 E Main St, League City, TX 77573) on Wednesday, April 07,2021
The post Chula Bryant appeared first on Crowder Funeral Home.
View Original Notice ? Chula Bryant