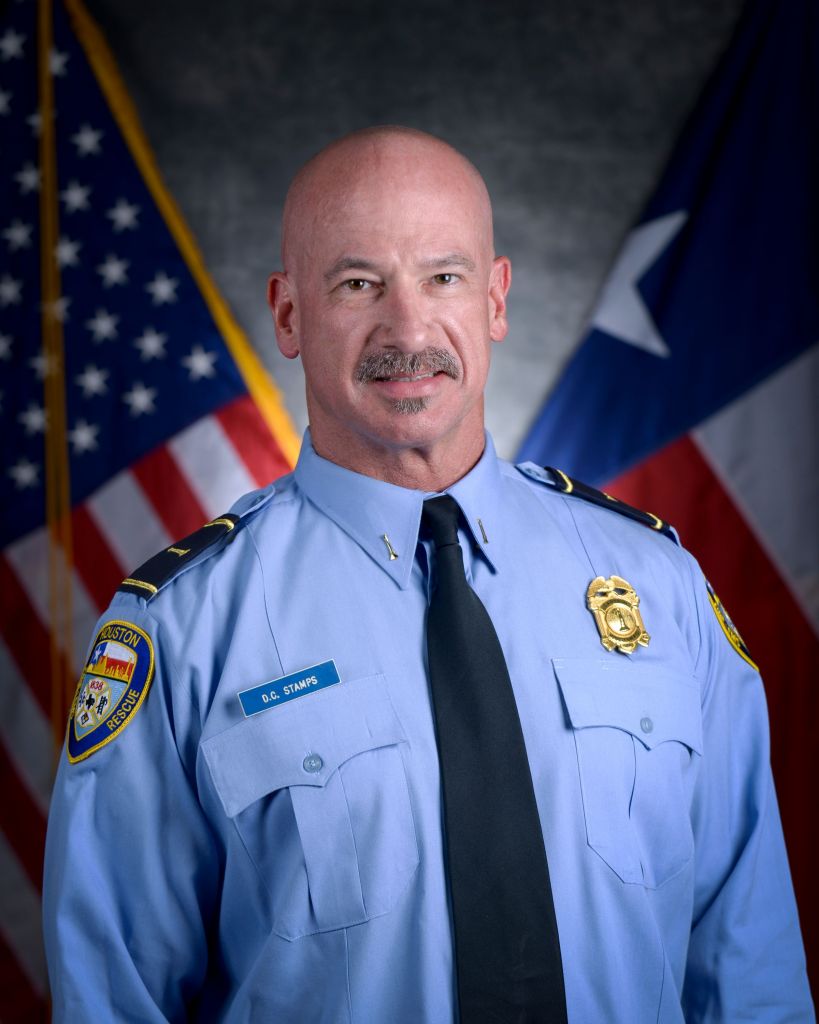 Donald Clark Stamps was born in Texas City, Texas on Christmas Day in 1963. The son of Pat and Ralph Stamps, Don became an extraordinary, beloved family member, firefighter and friend.
Don's survivors include daughters Savanna Stamps and Paige Stamps; brother and sister-in-law Rai and Anna Stamps; nieces Fallon Stamps Benavides, Meghan Stamps, Katrin Stamps, Victoria Stamps, and Heidi Thompson; and numerous relatives and friends. He was predeceased by his parents and brother R. Matt Stamps.
After growing up in Texas City and Jasper, Texas, Don graduated from Jasper High School in 1981. His calling to the fire service came early. At 17, he pulled up to a brushfire and rushed to help firefighters control the blaze at Lake Sam Rayburn. He soon became a professional firefighter. After service in fire departments in Victoria and The Woodlands, Don joined the Houston Fire Department. He was a graduate of HFD Academy Class 1993/A. Rising to the rank of captain, his HFD assignments through the years included Stations 19, 45, 51, 105 and, most recently, 104. He also served as an active captain in the Champions Fire Department, after starting as a volunteer. As a member of the Houston Professional Fire Fighters Association, Don advocated for firefighter retirement security in Houston and at the Texas state capitol. He fought for what he believed in: fairness for his sisters and brothers in the fire service.
Most of all, Don was loyal and giving. He sometimes went without to provide for others. When his nieces lost their father, Don lovingly stepped up to help. They formed lifelong bonds. Whether covering friends' shifts at the fire station or helping with remodeling or storm-damage projects, Don could be counted on. But his giving nature went beyond family and friends. He once organized a fundraiser for a needy citizen he had met while ordering breakfast at a Chick-fil-A restaurant.
In his downtime, Don enjoyed motorcycle rides, camping and hiking around Texas, the gun range, drumming, jet-skiing, his nieces' dogs – Trooper, Taylor, Ginny, Milo, and Hamm – and Wednesday night sushi dinners with family. Those dinners included many laughs, some occasional dark humor, and running jokes that have endured for many years. Don's wonderful sense of humor will be remembered.
The Stamps family is grateful for the support of the HFD Family, the Houston Professional Fire Fighters Association, the Champions Fire Department, and Dr. Jessica Stark and the Memorial Hermann-Texas Medical Center staff.
The Family will receive friends on Saturday, April 10, 2021 at 11:30am with a Ceremony at 1:30pm at Sagemont Church, 11300 S Sam Houston Pkwy E, Houston, TX 77089.
The post Donald Clark Stamps appeared first on Crowder Funeral Home.
View Original Notice ? Donald Clark Stamps