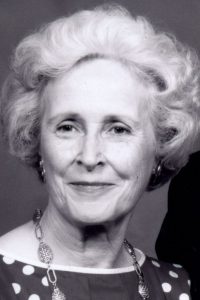 Mildred (Millie) McCall Jenkins passed away at her home in Dickinson, Texas, on Thursday, May 27, at the age of 93. She leaves behind a legacy of love and dedication to her family and friends. Born on May 9, 1928, to Dora Koch McCall and William Wilson McCall, Millie grew up in Flatonia, Texas, graduating Valedictorian in 1945. She attended business college in San Antonio. She met her future husband and love of her life, Tom Jenkins, on a blind date. They were married for 64 years, until his death in 2012.
The couple made their home in Ft. Worth, where their first three daughters were born. They moved to Kingsville in 1955, where their three sons and youngest daughter were born. In 1968 the family moved to Dickinson.
Millie was a force of nature. A loving wife, mother, grandmother and great grandmother, she was a remarkable woman who lived her life with grace and dignity. Her greatest joy was spending time with her family. While her children were growing up, Millie devoted her time and boundless energy to their school and extracurricular activities. After her youngest child entered kindergarten, Millie became assistant to the DISD Superintendent, a job she held for fifteen years.
A faithful Catholic, Millie was an involved member of Shrine of the True Cross Church in Dickinson for over fifty years. She was also active in numerous organizations as a member or volunteer, including The Dickinson and Galveston Historical Societies, The Grand Old Opera House in Galveston, the Shepherd School of Music at Rice University, Moores School of Music at The University of Houston, and Gateway Visitors Center. She received several Volunteer of the Year awards. She and Tom loved to travel, visiting all the continents except Antarctica. Millie was an avid bridge player and reader. In 2005 a stroke left her partially paralyzed, but she quickly mastered the controls of her electric wheelchair and barely slowed down, always keeping her indomitable spirit and sense of humor intact. Traveling was curtailed, but her meetings, luncheons, seminars, and volunteer activities continued. She enjoyed her many friends from her church circle, bridge groups, neighborhood, clubs, and organizations. Tom, a lifelong Aggie, converted Millie early on. The two remained enthusiastic A&M fans, attending many reunions, football games, musters, and graduations of children and grandchildren. She loved watching the Cowboys and Astros, often attending baseball games decked out in Astros gear.
Millie was preceded in death by her parents, her husband, Tom, and her sisters, Dottie Fountain (Lewis) and Pat Yates (David). She is survived by her children, Barbara Gibbs (David), Margie Hughes (Kley), Kathy Perkins (Don), Tom Jenkins (Eileen), Dennis Jenkins (Kay), Martha Jenkins, and Chris Jenkins (Sarah), sixteen grandchildren, and six great grandchildren. She is also survived by numerous nieces and nephews, as well as by her beloved dachshunds, Max and Karl. The family would like to thank Perla Avalos for her help and friendship. We express our utmost love and gratitude to our sister, Martha, for her years of devoted caregiving.
A Rosary will be held at 9:30 AM, followed by a Funeral Mass at 10:00 AM on Saturday, June 5, at Shrine of the True Cross Catholic Church in Dickinson, TX. Please join the family for a luncheon in the Parish Hall following the mass. In lieu of flowers, donations may be sent to Shrine of the True Cross Church, PO Box 687, Dickinson, TX 77539.
The post Mildred (Millie) McCall Jenkins appeared first on Crowder Funeral Home.
View Original Notice ? Mildred (Millie) McCall Jenkins