Paul D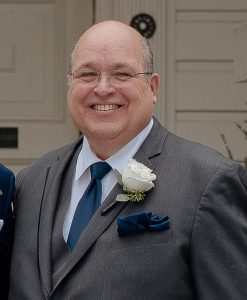 ouglas Foust of League City, Texas, went to be with the Lord on June 25, 2020 at the age of 58.
Paul was born in Bartlesville, Oklahoma on July 15, 1961 to Charles and Dorothy Foust who preceded him in death.  Paul is survived by his loving wife of nearly 38 years, Cathy Foust, his sons Brian Foust and Kevin Foust (Rachael), and grandchildren Charles Foust and Lana Grelle, all of League City.  Paul is also survived by two sisters: Barbara Powell (David) and Marcia Fox (Dave) of Austin.  Paul also leaves many extended family members including parents-in-law:  Donald and Sharon Dean; brothers-in-law:  Rick Dean (Phuong), Greg Dean (JingYan), Jeff Dean (Candy); and sister-in-law: Judy Dean.  Paul also leaves many cherished nieces and nephews as well as numerous friends and co-workers.
Paul always had a love for fixing things and technology.  He was very well regarded in the automotive community and worked in the industry for nearly 40 years as a Service Director at various Houston Area dealerships.  Paul had a love for learning and received many awards and recognitions throughout his career.  He had a big heart and he loved serving his family, friends, and community.  Paul was an active member of Clear Creek Community Church for many years. He and Cathy, his wife, made many life-long friends in small group.  His warm smile and contagious laughter filled any room as he shared his stories, advice, and life adventures. Paul will be remembered as a loving husband, dad, papaw, son, brother, uncle, and friend.
A Celebration of Life service will be held in Paul's honor on Saturday, July 17, 2021, at 2 pm at Clear Creek Community Church, 16743 Diana Lane  77058.
In Lieu of flowers, donations may be made to Lighthouse Christian Ministries or The Mercy Tree
"Where can I go from your Spirit?  Where can I flee from your presence?  If I go up to the heavens, you are there; if I make my bed in the depths, you are there.  If I rise on the wings of the dawn, if I settle on the far side of the sea, even there your hand will guide me, your right hand will hold me fast." Psalms 139:7-10 NIV
The post Paul Douglas Foust appeared first on Crowder Funeral Home.
View Original Notice ? Paul Douglas Foust