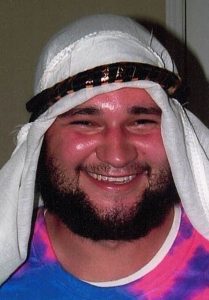 Corey Overbeck of Santa Fe, TX unexpectedly went home to be with the Lord on June 9, 2021. Corey was born in Galveston, Texas on May 27, 1983 to Susan Hinds & Curtis Bolton.
Following High School Corey attended The Seafarers Harry Lundeberg School of Seamanship through Seafarers International Union (SIU) in Piney Point, Maryland. From there, he was able to travel the world and obtained his Seafarers License. Corey worked for Inspectorate and was an inspector on ships that came into the many ports along the Gulf Coast.
Corey enjoyed spending time with his family and raising his sons with his wife Liz. He also loved all genres of music and attended concerts with his sons. With his smooth, deep voice he often turned heads while singing karaoke. His voice also once gained the attention of a local radio station which earned Corey a two-hour spot every Friday night as a dj. While supporting his favorite professional sports teams, he would loudly cheer on his team no matter the score. His smile and laugh was cherished and will truly be missed.
Corey is survived by his loving Wife Rosa (Liz) Elizabeth Overbeck, Sons Corey Jr (CJ) & Maxwell (Max); Mother Susan Hinds, Brother John Overbeck IV, Uncle Greg Hinds, Aunt Cindy Irvine; Father/Mother-in-law Steven & Thelma Slaughter, Sister-in-laws Sandra Martinez, Patricia Balcarcel, Shelda Brumini and spouses; Brother-in-law Marcos Balcarcel and spouse; numerous nieces, nephews, cousins, countless extended family and friends whom he loved dearly. Corey's kindness and love will always remain in the hearts of all that knew him. He is preceded in death by his father Curtis Bolton & Grandparents Walt & Maxine Hinds.
A viewing will be held at Pine Drive Baptist Church 705 FM 517 Road East in Dickinson, Texas 77539 Friday, June 18, 2021 at 4:00 p.m. A service officiated by Marcos Balcarcel will follow at 6:00 p.m. After the service a reception with light refreshments will be held in the gymnasium. Please come as you are in any attire to celebrate the life of this loving man that brought joy to everyone he met.
The post Corey Overbeck appeared first on Crowder Funeral Home.
View Original Notice ? Corey Overbeck