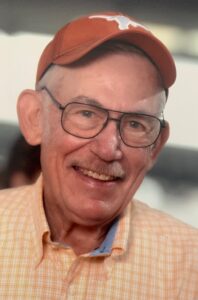 Loving husband, great father, and wonderful PaPa, Joe Mauch, Jr. of Kenedy, TX went home to The Lord on June 19, 2021 at the age of 85.   Born in Taft, TX on August 25, 1935 to Joe and Anna Schilling Mauch, there was always a little rebel spirit in Joe.  While he graduated from Taft High School in 1953, he also attended school in Gregory and Fashing.   In October 1966, he went on a blind date with Peggy Ferguson who was residing in Sinton at the time.  It was love at first sight for both of them.  When you know you've met the love of your life, you know, and after a brief engagement, they were married March 11, 1967 at the First Presbyterian Church in Taft.  They shared 54 years of marriage with a whole lot of love, support, communication, and patience.  They both were the best thing for each other.  Together, they raised three daughters, and the values of honesty, hard work, and keeping a strong moral compass was how he lived his life and raised his family.  Throughout the years, Joe proudly attended many sporting events to watch and support his girls and granddaughters play basketball, volleyball, softball, and soccer.  And then there were dance recitals, band competitions, gymnastics, and cheerleading in between as well.  Joe loved it all, always supporting his girls in whatever they were doing.  Hard work was no stranger to Joe.  Having farmed and ranched his whole life, he saw the early morning sunrise and late evening sunset on many a day.  He loved being outdoors, his cattle, hunting and fishing.  Joe and Peggy lived in Fashing after getting married and bought their home place in Kenedy in 1972.  Together, with many blood, sweat and tears, they made it their home.  Never one to sit still for very long, he was always finding something to do outside and Peggy was always close, whether it be building fence or working cattle.  Joe's spiritual walk with God was very important to him, and he was always so thankful for the Lord's blessings.  Having attended and being confirmed in the Lutheran Church in Sinton growing up, he joined the Methodist Church in Kenedy in 1969.  During this time, he was an active member serving in a variety of capacities including youth leader and Sunday School Teacher, Elder, Chairman of the Board and Chairman of the Building Committee when the Methodist Youth Building was built.  He was later a member at Community Bible Church and then Pawnee Methodist Church, always serving in leadership roles.  Joe was also an Associate Member of The Church at Horseshoe Bay. Besides farming and ranching, Joe also worked in the oil and gas pipeline business as a Right of Way agent and drilling superintendent starting in 1968.  He took early retirement in 1994 while working for Mitchell Energy as the Manager of the Right of Way Department in the Bryan-College Station area.   Not quite ready to be just be a full time rancher, he went to work for Carroll Lake and Associates for 10 years as a Petroleum Landman.  After this, he was finally ready to retire; however, having land and cattle means you're never really retired.  Joe and Peggy always enjoyed time with their daughters, sons-in-law, and granddaughters whether it be at the ranch, their place in Horseshoe Bay, family vacations, UT football games, or anywhere in between.  Besides his love for Tabasco, his friends were also very important to him, and he was loved by many.  Always a fighter, Joe overcame several serious health conditions through the years and was in ongoing cancer treatment for the past five years.  He was tired and ready to see His Lord.  After being in the hospital in San Antonio for 10 days, with Peggy by his side every day and night, he felt at peace and ready for his eternal home once he was back in Kenedy.  The reception following the service will be held at the St. Mathews HOPE Hall, formerly known as the Methodist Youth Building.  Very fitting for a gathering in Joe's honor to be at a place he was so proud to have helped build for the community.  Joe is survived by his wife, Peggy, daughters, Kerri (Joey) Kirby of Bastrop, Kimmi (Craig) Cantwell of Kenedy, Kristi (Jason) Shryock of Bryan, and Debra (Rick) Vasquez of Kenedy, granddaughters Jordan Kirby, Meagan Kirby, Kayla Cantwell, Kyla Cantwell, Kelsea Cantwell and Eastyn Shryock, sister Dorthy Foushee, brother Jimmy (Connie) Mauch, nieces, nephew and numerous cousins.  Joe was preceded in death by his parents, Joe Mauch, Sr. and Anna Mauch, sister Marlene Mauch Varvares, brothers-in-law Tony Varveres and Fred Foushee, granddaughter Kendra Grace Cantwell and grandson Jett Shryock.   If you knew Joe, you know the below motto is a testament to his life:   Life should NOT be a journey to the grave with the intention of arriving safely in an attractive and well preserved body, but rather to slide in sideways, Praising God, thanking Him for all His blessings, with chocolate in one hand, great memories in the other, and a body thoroughly used up, totally worn out and saying "Wow, what a ride… Thank you God!"
Visitation will be held on Tuesday, June 22, 2021 from 5:00p.m. to 7:00p.m. at Eckols Chapel. Funeral services on Wednesday, june 23, 2021 at Eckols Chapel with Rev. Larry Mayo officiating. Interment to follow in the Kenedy Cemetery. Pallbearers: Larry Mixon,  Marvin Crutchfield, Kirk Mixon, Mark Mixon, Bradley Taylor, John Foster and Joe Foster. Honorary Pallbearers: Billy Welkener,  Gordon Benham, Elton Lieke and Jackie Arnold.
View Original Notice ? Joe Mauch, Jr.