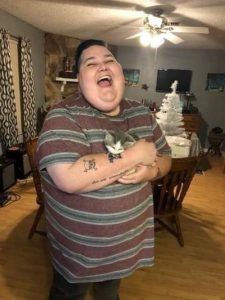 Ariel April Elisabeth Hurlbert, 30, passed away on June 20th, 2022, in Webster, Texas. She was born on June 26th, 1991, in Aurora, Colorado. Ariel was an unwavering advocate for many noble causes including LGBTQ+ rights, POC representation, and advancing liberal politics. She was a beacon of love, hope, and safety to an innumerable amount of people including those belonging to Narcotics Anonymous, the Black Lives Matter movement, as well as her immediate and extended family and friends. Ariel offered her unconditional kindness and compassion not only to humans but also animals in need. She will be remembered as the truly selfless and nurturing person she was and will be missed by many for a lifetime and beyond.
She is preceded in death by her grandmother Elisabeth Frances Hurlbert. She is survived by her parents Shanei Hurlbert-Weiner and Chad Weiner; her grandparents Richard and Linda Hurlbert; her aunts and uncles Tina and Udo Gessner, Angelika and Greg Moss, and Kelly Giamalva; and her cousins Dylan, Megan, and Devin Gessner, Hannah and Bryar Moss, and Kinley Colvin.
Ariel's Celebration of Life will be held on June 26th, 2022, on the day of her 31st birthday.
Alvin Taylor Street Club
204 S. Taylor Street
Alvin, Texas 77511
5pm to 8pm
In lieu of flowers, those wishing to make a memorial contribution may do so by donating to any of the following organizations in Ariel's name:
https://www.kinkatopia.org/products
https://www.binxshomeforblackcats.com/
https://www.blackgirlscode.com/donate/
The post Ariel April Elisabeth Hurlbert appeared first on Crowder Funeral Home.
View Original Notice ? Ariel April Elisabeth Hurlbert