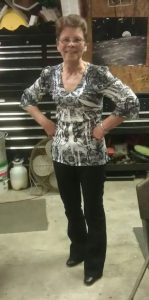 Nellie Etolia Reyna (74) of Texas City, Texas passed away on Wednesday, June 22, 2022. She was born in South Carolina on July 20, 1947 to Jimmie Ruth and Robert Larry Cogdill.
Nellie is preceded in death by her parents and her sister Reba Placker. She is survived by her husband Johnny Reyna, son Troy Phelps, stepsons Michael Miller and Benny Corpis, sister Mildred Walker, brother Robert (Hot Rod) Cogdill as well as numerous grandchildren, nieces, nephews, great nieces and nephews and great-great nieces and nephews.
A memorial service for Nellie will be held at a later date.
The post Nellie Etolia Reyna appeared first on Crowder Funeral Home.
View Original Notice ? Nellie Etolia Reyna