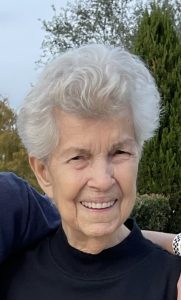 Hazel T. Ponds was born October 3, 1932 to the parents of Enodier and Esma Barras in Napoleonville, LA. Hazel went to be with Jesus and with her grandson Shane on June 17, 2022.
Hazel and Edward Prestidge moved to Dickinson, TX in 1967 where they raised their daughters Theresa and Carla. Hazel most years was a homemaker while also owning and running the "Poly-Clean Washateria and Dry-Cleaners".
Anyone who knew Hazel, knew that she had a passion for cooking and baking. She expressed her love by cooking for others and her family, who enjoyed her cooking for years as well. Hazel loved playing in the yard with her flowers and tomato plants, which is a passion that she passed on to her daughters. She loved watching the "Astros" and eating popcorn with her grand dog Dallas by her side, whom she would share the popcorn with.
Hazel is preceded in death by her late husband, Edward Prestidge, who passed away in 1997. They were married for 25 years, and her late 2nd husband, Charles Ponds, who passed away in 2011. They were married for 22 years. She is also preceded in death by her grandson Shane Sanchez who passed away on June 7, 2022. Preceding her death were her step-daughter, Cathy Ponds, step son-in-law, Jim Moore, step grandson, Jason Moore, siblings, 5 brothers and 1 sister, and numerous family and friends.
Hazel is survived by daughters, Theresa and husband, Leo Chovanec of LaPorte, TX, and Carla and husband Louis Sanchez of Marble Falls, TX, grandchildren Ashley Sanchez Greene, Matt Chovanec, Sarah and husband Max Montoya, great grandchildren Preston Greene, Andie and MJ Montoya, and Grayson G. Messinger.
Hazel is also survived by step children Cheryl and Vincent Liggio, Janet Moore, Chuck and BJ Ponds of Dickinson, TX, step grandchildren Tracy and Dennis Sherman and children, Julie and Shawn Moody and children, Jamie and Chad Bowen and children, Trevor and son, Marrisa and Kramer Jones.
Hazel was a devoted wife, Mother, and MaMa. She was a member of Shrine of the True Cross in Dickinson since 1967.
As her daughters, it always made us proud whenever we went to Dickinson. People would comment how friendly and caring a person our Mother was.
"Death brings a heartache that none can heal, but leaves a memory that none can steal"
The post Hazel T. Ponds appeared first on Crowder Funeral Home.
View Original Notice ? Hazel T. Ponds