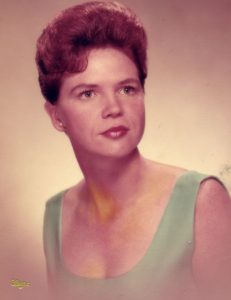 Judith Rae (Toland) Lohrer was born to Frank Allen Toland and Corraine Ione (Cheshier) Toland on the thirteenth day of March, 1937 in Houston, Texas. Judy passed from this life in her home on June 23, 2022 in Santa Fe, Texas surrounded by family and loved ones.
Judy was the oldest of three, sister to Frank Marshal (Elyndabeth) Toland and George Oliver (Juanita) Toland.
Judy attended Austin High School in Houston, Texas where she was a member of the Scottish Brigade.
In 1953 Judy married Benny Joe Moore, with whom she had three children, Alice Rae, Jody Kay and Joseph Michael. The marriage dissolved some years later. Life's winds blew Judy into the arms of William F. (Bill) Lohrer, who she shared a life with until his death in 1994. Mom and Bill lived in Houston and then a small community called Bleakwood, just outside of Kirbyville, Texas.
Judy worked at Methodist Hospital in Houston in the admin department until she and Bill moved to Bleakwood. It was then that she went to work for the county of Newton in the Mental Health and Mental Retardation department. In this she found her passion for working with special needs people. She followed this passion and went on the work for the Kirbyville School District, working with special needs children. After the death of her husband, Judy returned to the Houston/Pasadena area and worked at Hope Village caring for people with special needs once again, until her retirement.
Judy lived with her mother, Corraine Toland and daughter, Jody, and Jody's son, Casey. And in the course of time, both Judy's daughter, Jody, and her mother passed, leaving her to raise her grandson, Casey, until his maturity.
Mom was fiercely passionate about her family and doted on her grandchildren and great-grandchildren. She loved her pets and always had a dog. Mom was also pretty great at gardening and always had an abundance of plants and flowers. She enjoyed music and had a great sense of humor. My pet name for her was Red and she loved it.
Mother lived her life surrounded by her family and she was surrounded by family when the Lord called her away.
Judy is predeceased by her parents; her husband, William "Bill" Lohrer; daughter, Jody Kay Crawford and brother, George Oliver Toland.
She leaves behind to cherish her memory, daughter, Alice Rae Moore (Deborah); son, Joseph Michael Moore (Anita); brother, Frank Marshal Toland (Elyndabeth); grandchildren, Colt Moore (Stephanie), Clint Moore, Casey Crawford (Theresa) and Kenneth Roth (Jackie); great-grandchildren, Aria, William, Athera, Wyatt, Jason, Maddie, Corraine, Waylon, Andy, Brittany and Jody and great-great grandchild, Eli; nephews, Blake Toland and Charlie Toland.
In her honor, there will be a visitation on Tuesday, June 28, 2022 from 2:00pm to 4:00pm at Crowder Funeral Home in Dickinson, Texas. A celebration of life will follow at 4:00pm, also at Crowder Funeral Home.  She will be interred at Houston National Cemetery.
The post Judith Rae Lohrer appeared first on Crowder Funeral Home.
View Original Notice ? Judith Rae Lohrer