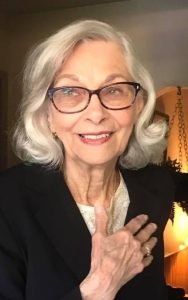 Carol Jean Webb DeFoore passed away on Friday, June 24, 2022 at her home in Kemah, Texas at the age of 84.
Carol was a Retired Nurse who worked for HCA Clear Lake Hospital on the geriatric unit.
She could sew anything from dresses, to costumes. She was an avid painter, and could cook and bake. She had many talents and shared them with her children and grandchildren.
Carol was preceded in death by her loving husband, Olen DeFoore, Sr.,  her parents, Roy and Elizabeth Webb, her sisters, Patsy Webb Miranda, and Mary Webb Markette.
Carol is survived by her son Olen DeFoore, wife Karyn, Her daughters Janis Doyle, husband, John, Susan Webb, husband Scott, Catherine Seyl, and husband Scott, Monica DeFoore.
Carol's surviving siblings, Jane Gonzalez of League City, TX, Doris Dunn of Galveston, TX, Roy Webb of Knoxville, TN, and Pamela Rusk of Cleveland, OH.
Grandsons: Michael, Matthew and Andrew DeFoore, David Benjamin Conant, Douglas "Buster" Wologo, Jacob Wologo, Russell and Christopher Hester, Joshua and John DeFoore, and Grant King.
Granddaughters: Katie Hunt, husband Zachary, Tiffani Hester, Laurel McCracken,  husband Brian, Candice Hester, Brandi Hester, Mallory DeFoore, and Kayla King.
Carol has ten great grandchildren.
Carol was matriarch of the DeFoore family. In addition to her biological children, she had many spiritual children, too.  Our dear mother has left her earthly body with all its suffering and has gone to be with Jesus in her new heavenly home.
Until we meet again,
Your loving family
The service will be held on Wednesday, June 29, 2022 at Crowder Funeral Home in League City, TX. The public viewing will be at 12:00 pm, and the service will begin at 1:00 pm.
The post Carol Jean Webb DeFoore appeared first on Crowder Funeral Home.
View Original Notice ? Carol Jean Webb DeFoore