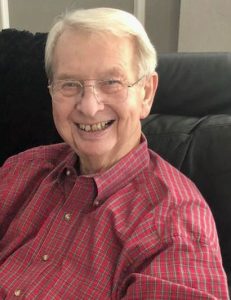 Dr. Donald Grant MacDonald (known as Grant or Dr. Mac), age 79, died on June 24, 2022, at his home in Houston, Texas from pneumonia.  He was surrounded by his wife and all of his children.
He was born on January 14, 1943, in Bedford, England to Dr. Donald MacDonald and Joyce Walters MacDonald.  He is preceded in death by his parents and his sister, Diane Turk and her husband, Mike Turk. He is survived by his wife of nearly 38 years, Pamela Beck MacDonald; son Jamie MacDonald (Susi) of League City; son Alex MacDonald of Austin; daughter Katie Brinkley (Jerry) of League City; Dr. Andrew MacDonald (Amanda) of Ft. Worth; step-daughter daughter, Kristi Martin (Chad) of Ft. Worth; grandchildren: Isabella MacDonald, Ian MacDonald, Christopher Martin, Blake Brinkley, Dylan Brinkley, Theresa MacDonald, Joshua MacDonald, and Sophia Rose MacDonald; nephews Richard Turk and James Turk; in-laws Robbie Lynn and Lowell Beck and brother-in-law, Galen Beck.
Grant grew up in Southport, UK and was admitted to the Royal College of Physicians and Surgeons by Her Royal Highness Queen Elizabeth II in 1965 at the age of 22, the youngest in his class.  His Royal Navy sea duty included commissions on the HMS Tiger in the English Channel and the HMS Wakeful in the Caribbean Sea.  His last assignment was on the HMS Hermes, a British aircraft carrier, where he achieved the rank of Surgeon Lieutenant.  He loved his Malta assignment and all his friends know the "Malta Stories".  His service there remained one of the high points of his life.  While in Valetta, Malta, he was raised as a Royal Arch Mason of The Supreme Grand and Royal Chapter of Royal Arch Masons of England and installed as a Knight Companion of the Royal Red Cross of Constantine.
Grant came to the States in 1971 at 28 years old.  He had a private practice in Alvin, Texas where he was honored to provide care for generations of families. He was voted Best Doctor in Alvin by the city several years in a row.  He was the chief of staff of Alvin Community Hospital in the 1980s.  His Spanish served him well in the Alvin community.  He would work as a physician for over 50 years, mostly in Texas.
In July of 2006, 230 years after America's independence from his mother country, Grant became a proud American citizen.  He never forgot the homeland and loved his Queen and was jubilant himself to witness her recent Jubilee.
Grant had a deep love for his family and a passion for travel. He traveled the world, but his happiest place was Nerja, Spain where he bought a home in 1973.  Summers spent there with his children, grandchildren and friends were looked forward to all year long.  Regretfully, he was unable to go the last two summers because of his poor health and Covid, but the summer tradition he began nearly fifty years ago will live on.  Until the end, Grant was still practicing his Spanish, with high hopes of returning to his Mediterranean haven.
Grant was a good cook and especially liked cooking holiday dinners for his friends and family.  He was a member of the Chaine des Rotisseurs, a food and wine society.  He loved sailing (he and Pam sailed the Virgin Islands for their honeymoon) and water skiing.  Like any good Scotsman he enjoyed good whisky.  Really, he just found joy in life – doctoring, reading, gardening and being with all the friends who will dearly miss him.
He was a member of the: Royal College of Surgeons of England; Texas Medical Association; Brazoria County Medical Association and a Lieutenant of the Royal College of Physicians in London.  He was a longtime member of Lakewood Yacht Club.
A memorial of Grant's life will be held on Thursday, June 30, 2022 at 2:00 pm at Crowder Funeral Home, 111 E. Medical Center Blvd. Webster, Texas 77598.
In lieu of flowers, those wishing to make a memorial donation in Grant's memory may do so to Faith in Practice (https://www.faithinpractice.org/) where he participated in medical missions in Guatemala or Inn Along the Way (https://www.innalongtheway.org/) a collaborative community supporting caregivers and older adults, located in Maine.
The post Dr. Donald Grant MacDonald appeared first on Crowder Funeral Home.
View Original Notice ? Dr. Donald Grant MacDonald