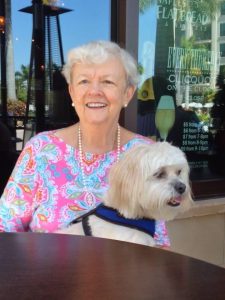 Phyllis S ."Ommie" Herold, 90, of League City, TX and formerly of Norwalk, CT and Naples, FL passed away peacefully on June 25, 2022 surrounded by family and friends. She was born in Hornell, NY on August 6, 1931, daughter of William H. Sanford and Mildred Carnes Sanford.  Preceded in death by her husband, Edward J. Herold and sister, Lavonne Zschoche.  She is survived by her daughters, Mary (Jeff) Kindle and Barbara (Greg) Bacharach. Also survived by her grandchildren, Kyle (Aimee), Kieran, Kody and Katie Kindle, Eddie, Lindsay and Evie Bacharach; great grandchildren, Nora and Owen Kindle and her sister Darlene (John) Aulls.
She was a graduate of Hornell High School, Hornell, NY.  Phyllis was selfless when it came to providing love and care for countless family members and friends in need.   It was her deep love and strong devotion to her Catholic faith that sustained her through the most difficult times of her life. Praying the Rosary and Divine Mercy Chaplet was as a daily priority and always brought her peace and comfort.
Phyllis, served as President for the Women's Board of Norwalk Hospital and helped with their Treasure House Thrift shop.   She graciously volunteered at Hospice in Norwalk, CT and Naples, FL.
She was a former member of The Shorehaven Golf Club, Norwalk CT and a member of The Foxfire Golf Club of Naples, FL where she enjoyed playing Bridge, Mahjong and socializing with friends.
Ommie, always had a smile on her face and brought joy and laughter to all she came in contact with. She had so much love and life packed into one lifetime.
A Memorial Mass will be celebrated Thursday, June 30,2022 at 10:30am at Shrine of the True Cross 300 FM-517 E, Dickinson, TX 77539. Phyllis will be laid to rest with her husband, Ed at Arlington National Cemetery at a later date.
Memorial contributions may be made to Shrine of the True Cross or the Fifth Ward Pregnancy Center 743 Shotwell St., Houston TX 77020.
The post Phyllis S ."Ommie" Herold appeared first on Crowder Funeral Home.
View Original Notice ? Phyllis S ."Ommie" Herold