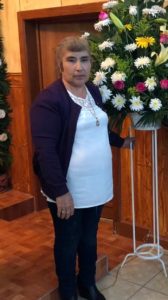 Sara Aguilera, 62, a resident of Pearland, TX, passed away in her home with her family by her side on June 21, 2022. Sara was born in Mexico on May 27, 1960. She attended St. Helen Catholic Church.  Sara enjoyed singing and dancing and loved gathering her family together, and spending time with them.
Sara leaves behind her husband of 43 years, J Carmen Aguilera; daughters: Erika Aguilera, husband Norbeto Ortiz, and Liliana Aguilera, husband Victor Pacheco; sons: Jose Luis Aguilera, wife Edith Garcia, Jose Domitilo Aguilera, wife Guadalupe Fonseca, Juan Antonio Aguilera, wife Elizabeth Toledo, and Guadalupe Aguilera; seven grandchildren; sisters: Margarita, Majesus, Martha, Leticia, Lucita, and Carmen; brothers: Manuel, David, and Fernando.
A visitation will be held from 4 p.m. to 8 p.m., Thursday, June 30, 2022 with a rosary at 6 p.m. at Crowder Funeral Home in Pearland. Mass will be held 1 p.m., Friday, July 1, 2022, at Sacred Heart of Jesus Catholic Community, 6502 County Rd 48, Manvel, TX 77578. Burial to follow at
Paradise South Cemetery in Pearland, TX.
The post Sara Aguilera appeared first on Crowder Funeral Home.
View Original Notice ? Sara Aguilera